Unlike a standard brick and mortar business, a web site can allow your customers to do business with you 24 hours a day, 7 days a week!
Being available to your customers 24/7, can for many small and start-up businesses be the difference between increasing sales or going out of business.
Whether you are looking to add a custom e-commerce solution to your web site or just expanding your site to include a "plug and play" shopping cart solution like PayPal, Authorize.net, Google Checkout, Yahoo Checkout, Big Commerce etc, M-cubed Designs can help you increase your sales by letting you do business around the clock from anywhere in the world.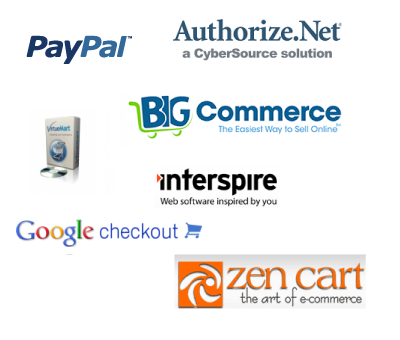 With the myriad of out-of-the-box shopping carts, reservation systems and other e-commerce solutions available today it can be very difficult and confusing to determine which one would work best for your business.
M-cubed Designs has experience working with the various e-commerce solutions available. This means we can help you sort through them and select the one that would best fit your needs.

While many online sellers find that an out-of-the-box e-commerce solution is perfect for their needs, out-of-the-box solutions do not always fit the bill.
Whether you need a custom-shopping cart, a custom reservation system, custom online accounting systems or more. M-cubed Designs can use a variety of technologies like PHP, Microsoft.net, MySQL, Microsoft SQL Server, Oracle and more, to create a custom e-commerce solution that solves just about any business need you may have.